Hello all, and welcome to Top Ten Tuesday – hosted by the wonderful bloggers over at The Broke and the Bookish.  Follow the link in the badge or click here so check out Top Ten Tuesday, and consider signing up.
Today's Topic is Top Novels Set in X location.  Being the rebel and hyper fantasy lover I am, I chose Extreme Alien Fantasy Setting.  Bit of a mouthful, yes.  I also decided to stay with just five, so I could truly focus on the really bizarre fantasy worlds.
Mainspring (Clockwork Earth book 1) by Jay Lake
Imagine, if you will, the ultimate in steampunk settings.  An entire planet Earth AND solar system as a clockwork mechanism.  For me it was an insane premise and I fell in love with the first novel within just a few pages of reading about clockwork angels, the gears of heaven, and the lantern of the sun.  Love it, so much.  If you're into steampunk, give this series a try.
Hogfather by Terry Pratchett (and all the Discworld novels)
You can't have a list like this without the creator of the Discworld.  Hogfather was the first Pratchett novel I ever read and is still near and dear to my heart.  It painted out the possibilities and limits of the worlds magic.  Even though Great A'Tuin and the elephants don't feature much, it still shows a world utterly different from out own, but oddly familiar.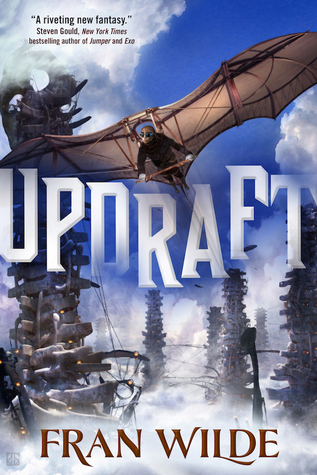 Set in a world where bone buildings grow from ground long since abandoned and characters travel on gliders, Updraft is definitely a unique experience in worldbuilding.  I also love how carefully Wilde delivers information about Bone Universe.  I can wait for Cloudbound to come out.
The City of Ember by Jeanne DuPrau

I first read this one while working my first job at a local bookstore.  I fell in love with the worldbuilding immediately, along with the Lina and Doon, who felt very unique and realistic. You won't truly learn how strange Ember is until you read the end of the novel, and I won't spoil it for you.  If you like dystopias, give this one a look.
Gulliver's Travels by Jonathan Swift
I loved Gulliver's Travels growing up, though much of the social and political commentary sailed right over my head at that age.  Now, I can really appreciate the messages Swift wanted to get across.  I still enjoy how much thought he put into the idiosyncrasies of each world, and the characters raised in them.
Those are my Top Five Novels Set in Truly Alien Fantasy Worlds, but I' sure there are more that I missed.  Let me know in the comments which is your favorite bizarre fantasy setting.
Join the Flights of Fantasy Newsletter to get updates on the site and links to featured blog posts delivered directly to your inbox.